SJAM - Skis for Schools
Skis for Schools Program 2020/21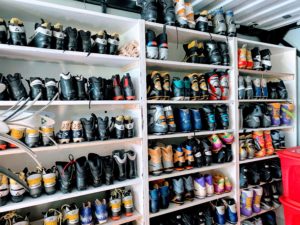 The goal of this program is to create opportunities for children to be actively engaged outside through the enjoyment of cross-country skiing or snowshoeing. A warm welcome is extended to all Schools that wish to use our inventory of equipment for classroom groups or after school programs.  This has all been made possible thru generous donations to the SJAM Winter Trail organization and its volunteers.

Details
Ideally the equipment will be used on the SJAM Winter Trail. However, if this is not feasible arrangements can be made to take the equipment offsite.
A $5 donation for each set of equipment that is borrowed would be greatly appreciated. If this is a barrier for your group, please let us know.
As part of a booking, you are responsible for providing the boot size and ski length for each child in your group. Our inventory spreadsheet includes helpful sizing guidelines.
(see links below)
We ask that you allow time for the boots to dry indoors before returning them to us or arranging for pickup up by a Sjam Skis for Schools volunteer.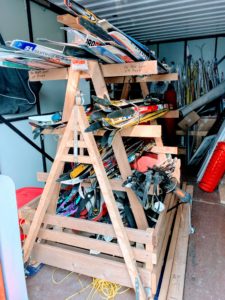 Click here for Program Introduction Video
Click here for Equipment Inventory
For comments, suggestions,
more information,
or to make a booking,
please email Cheryl at
skis.for.schools.ottawa@gmail.com
Happy Trails !